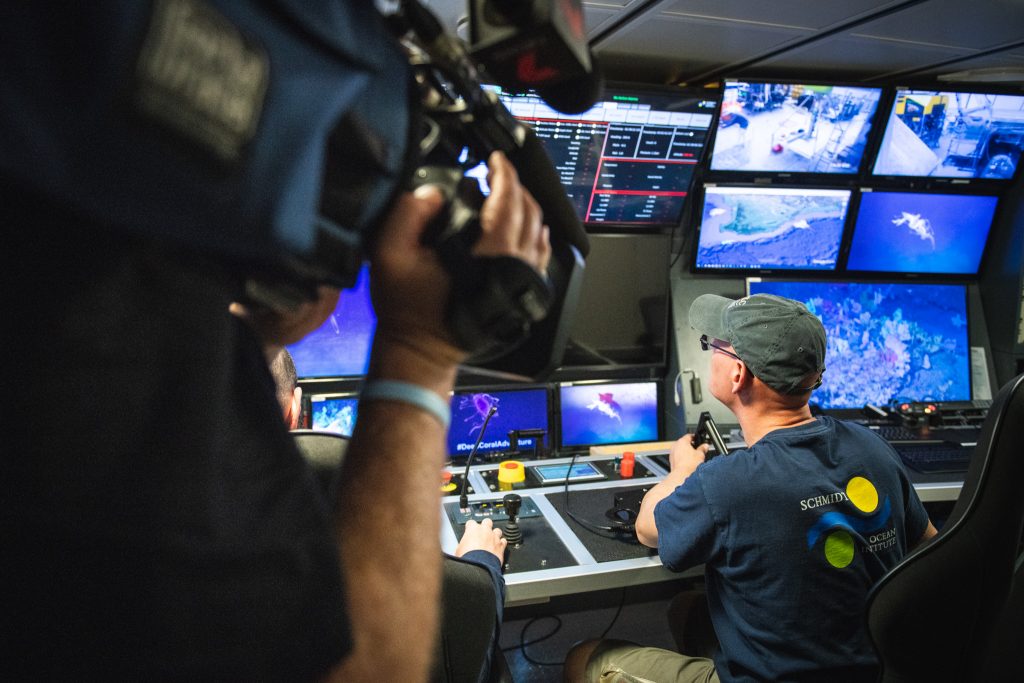 Schmidt Ocean Institute (SOI) engaged with communities around the globe like never before this year. When R/V Falkor arrived in Australian waters at the beginning of 2020, nearly a thousand people came to the Welcome to Country ceremony and public ship tours in collaboration with the Australian National Maritime Museum. We were able to share our expeditions not only virtually, but also through film, print, and countless articles and productions.
SOI expanded outreach into the virtual realm in response to pandemic lockdowns,  presenting plentiful opportunities for engaging with audiences. Virtual presentations reached almost 200,000 people, sharing knowledge at international assemblies such as the CogX Global Leadership Summit, UN Virtual Ocean Literacy Summit, Global Oceans 2020, World Economic Forum and Friends of Ocean Action Virtual Ocean Dialogues, and Australia Science Week. In the United States, we were proud to be a part of a series of the National Academies and Consortium for Ocean Leadership workshops and Capitol Hill Ocean Week. 
In March, we launched our #SchoolsOutScience campaign to help support K-12 students with home learning. The campaign included lesson plans, videos, and interactive exercises. SOI also expanded our reach into communities with live virtual presentations to groups like The Ocean Race, Oceanic Institute, Sustainable Ocean Alliance, and Alta Sea. We were able to not only share our expeditions virtually but through film, print, and countless articles and productions. 
SOI's footage was used by BBC's A Perfect Planet, two NHK documentaries, World Surf League, Parks Australia, and the United Nations. We graced two magazine covers and were featured in more than a dozen publications, including a partnership with ECO Magazine for a special issue on the deep sea. SOI was covered by over 900 media outlets, including BBC, the Guardian, CNN, Australian Broadcasting Corporation, and had three prominent features in the New York Times. 
We completed the year with two awards recognizing our storytelling and digital outreach: The Maritime Foundation's Babcock International First Sea Lord's Award for Maritime Media and the Science Engagement Initiative of the Year as part of Western Australia Premier's Science Awards 2020. The amazing discoveries and imagery collected were the catalysts for connecting people to the ocean no matter their proximity to the sea. You can engage with some of our award-winning material below.